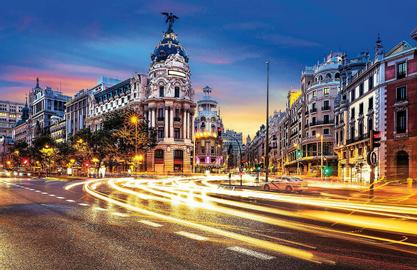 Why to book with us
- Best price guarantee at direct booking
- Unique Design- and Boutique Hotel in perfect location

Posada del León de Oro
Posada del León de Oro is an old building from XIX Century located in the heart of Madrid. With its contemporary concept, the Posada re-opened its doors again in December 2010 as a singular Hotel Boutique with a wonderful design and style. Our restaurant "Enotaberna" is considered our tradicional concept of the hotel.
---
His 17 rooms, all different, combine nostalgia and the latest trend in decoration, art y fashion.
---
Situated a few meters from Plaza Mayor, Puerta del Sol, the Royal Palace and "Area of Art" (Prado Museum, Thyssen-Bornemisza Museum and Reina Sofia National Museum).
What our guests say
"
Excellent location, clean and helpful staff.
"
"
This was a great place to stay! Location was the best
"
"
The hotel has a great (central) location, and was very nice in it self. The double bed and the duvet was among the best I have slept in in hotels! 10/10! The staff was friendly. So if I go to Madrid again I will not even consider a different hotel.
"
"
We stayed at Posada del Leon de Oro for one night (end of August 2021), we had booked a penthouse room and were pleasantly surprised! The room was spacious and clean, furnishing and decoration were very cosy and original. The bed was also extremely comfortable! The staff at the reception was very friendly and helpful and the breakfast (served at the table because of the pandemic) was copious and delicious. Unfortunately we did not have a chance to try the restaurant/oenoteca, as it was closed for vacation. The location is also very ventral which is great, many interesting and touristic spots are located at a walking distance (a few minutes away from Plaza Mayor). I definitely recommend this hotel either for short or longer stays.
"
Read more opinions
3 reasons to stay with us
Just around the corner of Plaza Mayor and Puerta del Sol
Located in an historic building with courtyard from XIX Century
Renewed traditional cuisine with the most extensive menu of the Spanish wines in the city. "the most madrilian stew of the city'