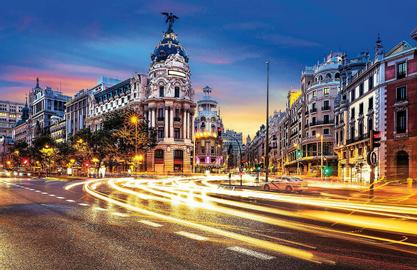 Why to book with us
- Best price guarantee at direct booking
- Unique Design- and Boutique Hotel in perfect location

Posada del León de Oro
Posada del León de Oro is an old building from XIX Century located in the heart of Madrid. With its contemporary concept, the Posada re-opened its doors again in December 2010 as a singular Hotel Boutique with a wonderful design and style. Our restaurant "Enotaberna" is considered our tradicional concept of the hotel.
---
His 17 rooms, all different, combine nostalgia and the latest trend in decoration, art y fashion.
---
Situated a few meters from Plaza Mayor, Puerta del Sol, the Royal Palace and "Area of Art" (Prado Museum, Thyssen-Bornemisza Museum and Reina Sofia National Museum).
What our guests say
"
Great location, very clean, staff very helpful. Only down point would be the noise, we were on the 1st floor and every time we were in the room we could hear everything going on in the restaurant or bar below us from breakfast time until about midnight. Having said that we would stay there again if returning to Madrid.
"
"
Nice, spacious rooms with super comfy bed and great shower.
"
"
We couldn't have chosen a better hotel. This hotel is managed by very nice friendly and helpful personnel starting from reception staff to the room attendant who maintained our room to perfection! We were greeted on arrival by a really nice receptionist who gave us a briefing on the history of the hotel and offered us a welcome drink. This hotel is walking distance to many places of interest, metro and lovely restaurants. Will recommend to friends and family who wish to visit Madrid. Would certainly book again.
"
"
We had a great time. The staff were helpful and friendly. The hotel clearly has a very popular Tapas bar. This could be a problem if you want to go to sleep early. Didn't bother us, however. The location really worked for us.
"
"
We have recently had a 2 night stay at the hotel in a family room. The room was spotless, with lovely facilities, especially the Clarins toiletries. The only criticism is that the TV did not have any English channels, but this did not detract from the overall stay. Breakfast had a very good selection and the restaurant is lovely. The position of the hotel is fabulous, about 10 minutes walk to the centre of Madrid and its shops and landmarks. Will definitely stay again.
"
Katherine Bevan
20-Dec-2019
Read more opinions
3 reasons to stay with us
Just around the corner of Plaza Mayor and Puerta del Sol
Located in an historic building with courtyard from XIX Century
Renewed traditional cuisine with the most extensive menu of the Spanish wines in the city. "the most madrilian stew of the city'