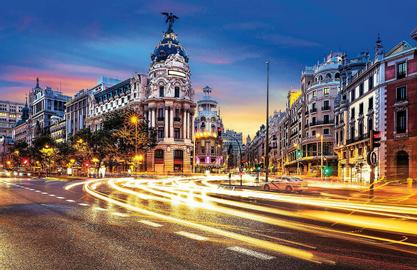 Why to book with us
- Best price guarantee at direct booking
- Unique Design- and Boutique Hotel in perfect location

Posada del León de Oro
Posada del León de Oro is an old building from XIX Century located in the heart of Madrid. With its contemporary concept, the Posada re-opened its doors again in December 2010 as a singular Hotel Boutique with a wonderful design and style. Our restaurant "Enotaberna" is considered our tradicional concept of the hotel.
---
His 17 rooms, all different, combine nostalgia and the latest trend in decoration, art y fashion.
---
Situated a few meters from Plaza Mayor, Puerta del Sol, the Royal Palace and "Area of Art" (Prado Museum, Thyssen-Bornemisza Museum and Reina Sofia National Museum).
What our guests say
"
Thank you for such nice stay. The room was clean and comfortable. The staff were friendly and helpful.
"
"
Good location, direct in the city centre and excelent service incl. the breakfast. Thank you!
"
"
The room and hotel were very nice and in a great location. The room was large, clean, and modern. The only downside is that the lighting in the room was not very good for reading or putting on makeup.
"
Colleen Kasper
1-Oct-2023
"
We very much enjoyed our stay with you. The room was very nice, the location great and all staff friendly and helpful. I look forward to staying with you again.
"
"
Great stay! The staff was very friendly and helpful booking us taxi's. The room was clean and cool. It's wonderful location for those exploring the city for the first time.
"
Read more opinions
3 reasons to stay with us
Just around the corner of Plaza Mayor and Puerta del Sol
Located in an historic building with courtyard from XIX Century
Renewed traditional cuisine with the most extensive menu of the Spanish wines in the city. "the most madrilian stew of the city'