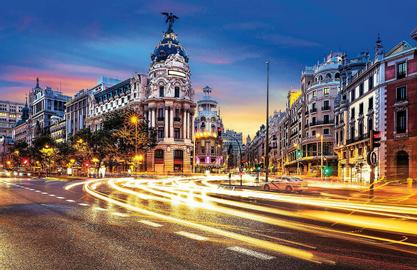 Why to book with us
- Best price guarantee at direct booking
- Unique Design- and Boutique Hotel in perfect location

Posada del León de Oro
Posada del León de Oro is an old building from XIX Century located in the heart of Madrid. With its contemporary concept, the Posada re-opened its doors again in December 2010 as a singular Hotel Boutique with a wonderful design and style. Our restaurant "Enotaberna" is considered our tradicional concept of the hotel.
---
His 17 rooms, all different, combine nostalgia and the latest trend in decoration, art y fashion.
---
Situated a few meters from Plaza Mayor, Puerta del Sol, the Royal Palace and "Area of Art" (Prado Museum, Thyssen-Bornemisza Museum and Reina Sofia National Museum).
What our guests say
"
All aspects of our stay were excellent, especially the food and the start. We had a great time. Philip and Jenna Mead
"
"
Room was very nice, staff very friendly and helpful. Only the breakfas could be a bit better. But overall, we weve very satisfied and can recommend this hotel.
"
"
Great hotel in a great area. Ideal for family of four as the room was larger than expected. Large, good beds. Friendly staff offering us something to drink at arrival, helpful with taxi at departure. Breakfast was good. Recommended for everyone looking for a place to stay in the centre of Madrid.
"
"
100% satisfied with the stay at Posada del León de Oro. Great service, super clean, great value, and awesome design of rooms.
"
"
The staff were incredibly friendly and helpful. The restaurant was very good for both dinner and breakfast. I loved my room. It was very clean. I thought the hotel was lovely and in a perfect location. I would recommend it to any friends who travel to Madrid.
"
Jocelyn Bautista
8-Jul-2019
Read more opinions
3 reasons to stay with us
Just around the corner of Plaza Mayor and Puerta del Sol
Located in an historic building with courtyard from XIX Century
Renewed traditional cuisine with the most extensive menu of the Spanish wines in the city. "the most madrilian stew of the city'