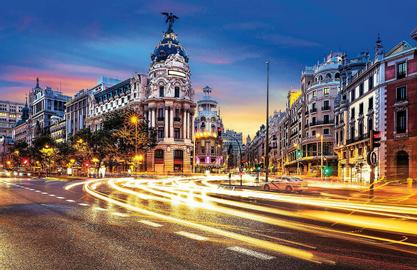 Why to book with us
- Best price guarantee at direct booking
- Unique Design- and Boutique Hotel in perfect location

Posada del León de Oro
Posada del León de Oro is an old building from XIX Century located in the heart of Madrid. With its contemporary concept, the Posada re-opened its doors again in December 2010 as a singular Hotel Boutique with a wonderful design and style. Our restaurant "Enotaberna" is considered our tradicional concept of the hotel.
---
His 17 rooms, all different, combine nostalgia and the latest trend in decoration, art y fashion.
---
Situated a few meters from Plaza Mayor, Puerta del Sol, the Royal Palace and "Area of Art" (Prado Museum, Thyssen-Bornemisza Museum and Reina Sofia National Museum).
What our guests say
"
This is one of the most charming boutique hotels I've stayed in anywhere.
"
Jules Sterwart
24-Jun-2022
"
We arrived mid-morning after an all night flight. While our room was not ready when we got there, we were assured that it would be within an hour. When we returned our room was ready just as promised, our bags were already delivered to our room, and the room exceeded my expectations. I was thrilled to be on the street with a balcony overlooking several restaurants, but worried about the noise. We needn't have worried! Our room was peaceful, spacious, lovely and we slept very well every night. I would highly recommend this place to anyone - the staff were helpful, rooms quiet, balcony fun people watching, and room very clean. I was so thrilled with this hotel!
"
Shelle Grimm Freind
21-Jun-2022
"
The rooms were well designed and decorated. We enjoyed being near to the bars and restaurants, and also the balcony.
"
"
Friendly and helpful staff at the reception. Neat room with balcony. Daily the room cleaned, tied, bed made and used towels changed.
"
"
stayed 3 nights. great hotel. super friendly staff very helpful. would highly recommend
"
Read more opinions
3 reasons to stay with us
Just around the corner of Plaza Mayor and Puerta del Sol
Located in an historic building with courtyard from XIX Century
Renewed traditional cuisine with the most extensive menu of the Spanish wines in the city. "the most madrilian stew of the city'